Going freelance is an exciting time but there's a lot to think about first. One of the most important considerations you should take into account is how you're going to get paid. Hopefully, you're signing clients who pay on time and in full. But where's the money going?
A lot of people who work as sole traders simply keep everything in one bank account – their personal one.
At first this might seem all fine, but when it comes to doing your bookkeeping and working how much tax you owe, things get a bit trickier.
The tricky part is expenses. In order to reduce your tax bill, you should claim for business expenses which are deducted from your profits, giving you a lower figure to pay. However, if you've got a bank account full of personal and business expenses, it can be a real headache trying to separate them.
The best practice that we would recommend is getting a separate bank account for your freelance business. Everything is a lot neater and organised and you'll save time doing your bookkeeping, which is always a bonus. 
High street bank or online bank?
The next question you no doubt have is – what bank do you choose? You could opt for a business account at your current bank or you could choose one of the growing numbers of online bank accounts.
With most high street banks, you'll have to pay a fee each month. With online banks, there are more options that have no or lower account fees. Online banks are also a lot more convenient for some, particularly if you're dealing with international customers with multiple currencies.
With that in mind, we've put together a list of some of the best and most popular online bank accounts for freelancers.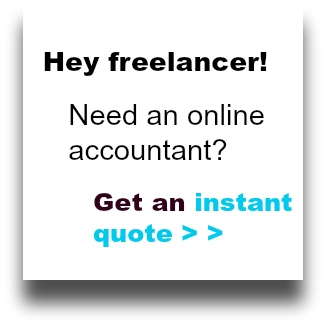 Tide
Tide is an online bank account built for freelancers and small business owners to use whenever and wherever. According to their website, 1 in 12 business current accounts opened in the UK was with Tide.
The key feature is that there are no monthly or annual fees associated with their current account. Instead, they charge a very low fee for bank transfers (20p), cash withdrawals and deposits (both £1). Payments made between Tide accounts are free.
Alongside its main features, there's also the option to apply for credit – this could be handy for those freelancers whose laptop or printer has just broken down with no warning.
It also features accounting and invoicing features so you can manage your accounts and keep up with cash flow from your clients.
Revolut
Unlike some of the other options, Revolut's freelancer account is set at £6.99 per month. The price tag may turn some people off, particularly freelancers but it's still a popular option.
With Revolut, you can spend in over 150 currencies and you can hold, receive and send money in 24 currencies. This is good news for those who work with international clients.
If you use other apps like Slack or bookkeeping software, Revolut can connect to them and also offer discounts on memberships in some cases.
Coconut
Coconut is a bank account made by freelancers for freelancers. They have a free plan for those just starting out and will be launching their Grow plan for £5 a month in the future. The free plan comes with 10 free bank transfers per month (20p each after), so it's potentially one of the best options out there price wise.
Aside from just being a bank, Coconut's account aims to help freelancers with their accounting too. Coconut will provide estimates on how much tax you are expected to owe which is handy to give you a real-time view into your finances.
Monese
Monese is another popular online bank account for freelancers, particularly those who are on the move as it allows you to open the account without a UK address.
Monese created their account for freelancers because other banks did not take well to freelancers' unstable incomes and lack of regular deposits.
The app allows you to manage your money with ease, add payments and it helps with budgeting too – a much-needed helping hand.
They have a few options, some have fees but there is one without a monthly fee, just fees on withdrawals and transfers.
Transferwise
While not quite a bank account, Transferwise is a popular option for those who send and receive money in foreign currencies. Their fees for converting are much lower than Paypal. In fact, their website claims Transferwise's charges are 14x lower. This is a relief for those who have been stung by high conversion rate charges in the past.
It has a slightly higher bank transfer rate than Tide (50p per transfer), but it may be worth it for the currency exchange charges. You can simply transfer the exchanged money into another bank account for accounting purposes if you wish.
We hope this list has helped you choose the right bank for you. All of the above are highly rated, so it all depends on your particular circumstances. If you're UK-based and only working with UK companies, something like Tide or Coconut could be ideal for their low fees. Revolut and Transferwise may be better for those working internationally, particularly the digital nomads out there.
Have you used any of the above online banks? Would you recommend another? Please share your thoughts below.